1
-

305

-

332

-

7181

20197 NE 16th Place 2nd Floor,
North Miami Beach, FL 33179
Isaac Farin Therapy Mind & Body Change Retreat
Safari Surf has partnered with Isaac Farin Therapy to present the Mind & Body Change Retreat in Nosara Costa Rica – December 3-10, 2013.
What you will accomplish
- How to use both conscious and unconscious resources and awareness to promote healing and change in your life.
- How to use the Mindfulness/Meditation perspective to promote present-moment awareness, acceptance, "letting go", and slowing down.
- The use of surfing to increase the flow in your life and more physical control, balance, mental concentration, confidence, by challenging oneself, and developing oneness.
- How to discover solutions and possibilities to overcoming challenges that may arise in life.
- How to reduce symptoms of stress and anxiety, depression, and anger, while cultivating present-moment awareness and increasing happiness.
Camp Pricing
Casa Tucan
Single = $2675
Dbl = $2415 PP
Harbor Reef – 2 BR Suite
Single = $3375
Double = $2765 PP
Harmony Hotel – Cocos Room
Single = $3775
Double = $2965 PP
Harmony Hotel – 1 BR Bungalow
Single = $4275
Double = $3215 PP
Retreat Itinerary
Sunday:
Arrivals
Intro to retreat
Group Dinner: Casa Tucan
Monday:
Surfing
Opening group lecture – Isaac
Group Yoga class
Group Dinner: dolce vita
Tuesday:
Morning zip line
Lecture – Isaac
Group Dinner: Gilded Iguana
Wednesday:
Waterfall and horseback
Lecture – Isaac
Outdoor group meditation
Group Yoga class Dinner
Thursday:
Surfing
Lecture – Isaac
Plant a tree
Group Yoga on the beach at sunset
Group Dinner: marlin bills
Friday:
Howling monkey tour
Lecture – Isaac
Group activity by the beach area
Group Dinner: Luna Sunset
Saturday:
Surfing
Lecture – Final
Group Yoga
Group Dinner: Location tbd
Sunday:
Departure
Package Details
*RT Transportation from Liberia (LIR) to Nosara and back via shuttle taxi
*7 Nights lodging at choice of hotel - all taxes included
*Breakfast included daily with full menu access at Casa Tucan included; all taxes & tips incl.
*(5) Group Dinners included with full menu access at different locations; choice of 2 glasses of wine or 3 beers included; all taxes & tips incl.
*(4) Lecture sessions (in studio) / 2 lectures on site
*(3) 2 hour surf sessions with all equipment provided
*(1) Zip line tour *(1) Waterfalls tour
*(1) Howling Monkey Adventures tour (off road Tomcar)
*(3) Yoga classes *(2) Full Body Massages
*Safari Surf t-shirts
Isaac Farin Bio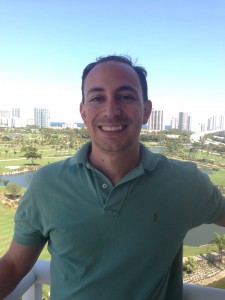 Isaac Farin is a Licensed Marriage and Family Therapist (LMFT) and Certified Clinical Hypnotherapist who works out of his private practice, Isaac Farin Therapy LLC., in North Miami Beach, Florida.
Isaac is a Clinical member of the American Association for Marriage and Family Therapy (AAMFT), an AAMFT Approved Supervisor, and an Associate member of the American Society of Clinical Hypnosis (ASCH).
Other Certifications: Mental Health Clinician, Certified Medical Meditation consultant, Certified Stress Management Consultant.
Isaac is the developer of "Longboard TherapyTM" in which he incorporates the use of skating as an intervention with some of his clients. This type of action-oriented-psychotherapy is extremely unique to the field and gaining popularity due to its beneficial results.
Isaac is a passionate therapist who enjoys helping people discover solutions to their problems from a strength-based and positive approach to therapy. In his work, he incorporates the use of mindfulness meditation, solution focused brief therapy (SFBT), and hypnosis- he calls this therapeutic weave- "Solution-Informed Mindfulness Therapy."
His clients range from children, adolescents, adults, to the geriatric population. While specializing in anxiety management, depression management, pain management, grief and loss, family therapy, substance abuse therapy, and other mental health challenges.
Isaac is so passionate about his field that for his Doctoral- Ph.D. Dissertation, he is developing a training program to assist beginning therapists in reducing their own anxiety and stress, so that they could be of better assistance to the clients they work with. (Isaac is completing his Doctoral Degree at the well-known Nova Southeastern University's Ph.D. program in Marriage and Family Therapy).
Isaac has been married to Dr. Shelley Farin, a Speech and Language Pathologist, for 3 1/2 years. They have both spent time in Nosara-participating in surfing, yoga, meditation, and adventure tours- and they absolutely love it!
A message from Isaac:
" I very much look forward to spending time with you in Costa Rica. The environment is ideal for creating mind and body change while relaxing and letting go of the everyday grind, and having a blast doing so! I have specifically chosen Nosara as the spot for this retreat because the elements are great and the Safari Surf School is one of a kind! See you soon!"
Please don't hesitate to reach out to Isaac for any questions.
305-332-7181
https://www.isaacfarintherapy.com
Click here to see a full list of Packages from Safari Surf School