1
-

305

-

332

-

7181

20197 NE 16th Place 2nd Floor,
North Miami Beach, FL 33179
Isaac Farin Featured in Sun Sentinel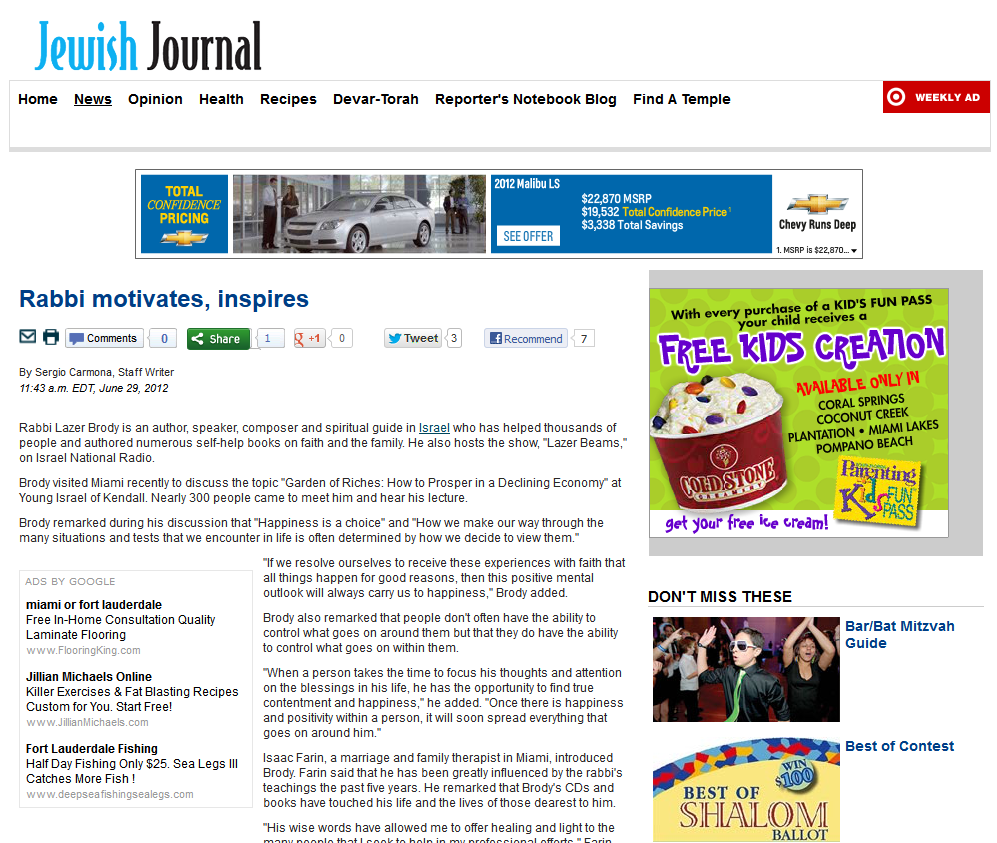 Rabbi motivates and inspires in Miami, Florida
Rabbi Lazer Brody is an author, speaker, composer and spiritual guide in Israel who has helped thousands of people and authored numerous self-help books on faith and the family. He also hosts the show, "Lazer Beams," on Israel National Radio.
Brody visited Miami recently to discuss the topic "Garden of Riches: How to Prosper in a Declining Economy" at Young Israel of Kendall. Nearly 300 people came to meet him and hear his lecture.
Brody remarked during his discussion that "Happiness is a choice" and "How we make our way through the many situations and tests that we encounter in life is often determined by how we decide to view them."
"If we resolve ourselves to receive these experiences with faith that all things happen for good reasons, then this positive mental outlook will always carry us to happiness," Brody added.
Brody also remarked that people don't often have the ability to control what goes on around them but that they do have the ability to control what goes on within them.
"When a person takes the time to focus his thoughts and attention on the blessings in his life, he has the opportunity to find true contentment and happiness," he added. "Once there is happiness and positivity within a person, it will soon spread everything that goes on around him."
Isaac Farin, a marriage and family therapist in Miami, introduced Brody. Farin said that he has been greatly influenced by the rabbi's teachings the past five years. He remarked that Brody's CDs and books have touched his life and the lives of those dearest to him.
"His wise words have allowed me to offer healing and light to the many people that I seek to help in my professional efforts," Farin added. "As a marriage and family therapist these teachings constantly arise in my work with clients. Many people find relief from their problems by focusing on positive thoughts that help to improve confidence and ease negativity."
Joseph Sabag, executive director for Zionist Organization of America in Boca Raton who attended the event, said of Brody's discussion, "The rabbi was so genuine and he motivated to help people."
Link to Article: http://www.sun-sentinel.com/florida-jewish-journal/news/miami-dade-county-news/fl-jjdc-brody-0627-20120629,0,4602684.story