1
-

305

-

332

-

7181

20197 NE 16th Place 2nd Floor,
North Miami Beach, FL 33179
Isaac Farin Featured in The Miami Herald - Longboard TherapyTM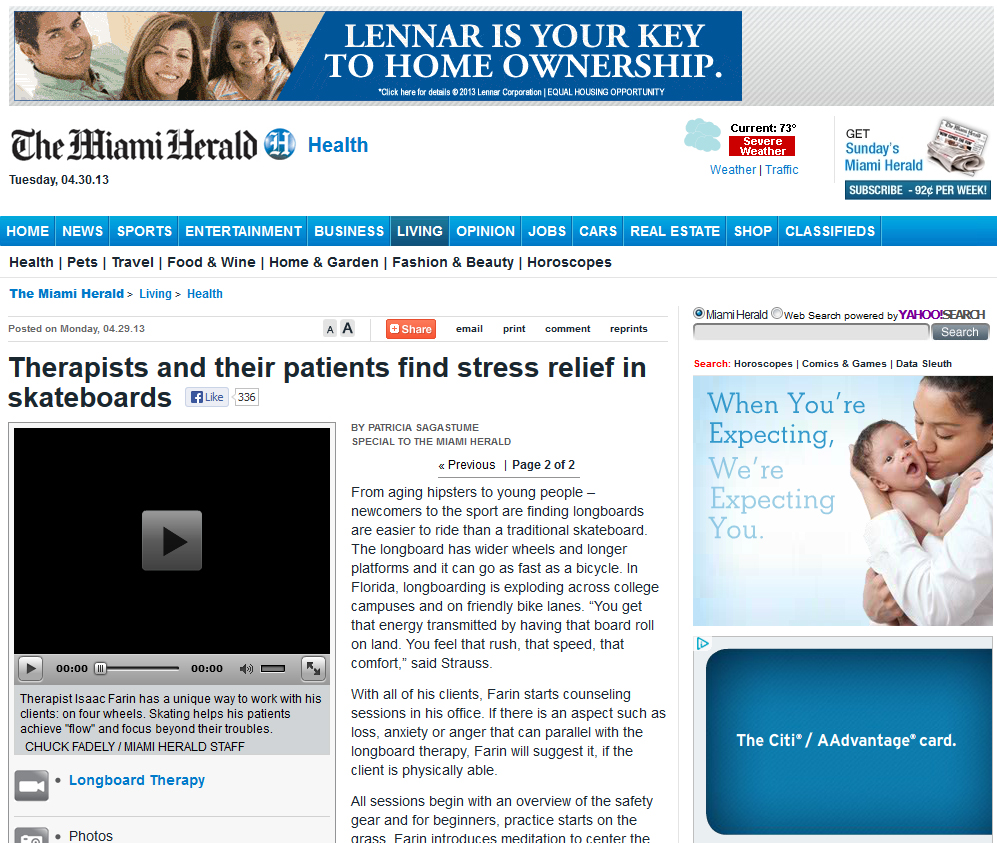 Move over, Freud. Your couch is being replaced by a piece of wood on wheels.
On the shady slopes of pavement in Greynolds Park in North Miami Beach, a therapy counseling session is in progress.
Once a week, amid the sprawling canopies of hardwood hammocks and mangrove forests, patients sort through emotions — while pushing on a longboard skateboard.
Donning kneepads and helmet gear, Alex Batista, 47, smiles as he rides silently alongside his therapist.
"Longboarding forced me to focus on what I was doing and not what I was going through — the suffering and everything else," said Batista.
Last October, Batista's wife Claudia, 48, died after undergoing a year of intensive chemotherapy treatments for ovarian cancer. They were married 12 years.
" I was in this black hole. There were a lot of emotions going on. So I thought, 'What do I do?' '' Batista said.
What he did was ask his wife's therapist for help. Her counseling sessions had helped her before she died. At first, he had regular talk sessions with Isaac Farin, a marriage and family therapist in North Miami. But Farin, an avid longboard skater, was developing a new treatment using the sport.
"I use longboarding as exercise, but I started to feel different. My stress was being reduced and I liked how I was feeling. It was a different sense of joy," said Farin.
Farin realized longboarding had all the hallmarks of the positive psychology theory called flow. Flow is what surfers and skateboarders call stoke and it's that feeling of complete happiness in the moment. Farin believed that by teaching his patients to longboard, they could take their minds off their pain, let go of fears, maintain a sense of control — all while having fun.
When all those things happen at once, time seems to fly by.
" I believe in this process of using the present moment to move towards a more hopeful future. It's a little bit different than some traditional psychologies that focus more on the past and then, only then, will you change," said Farin.
Batista, who was a pitcher for Florida Atlantic University, liked the idea of exercising but didn't want to leave his home. Farin suggested Batista take baby steps.
"I suggested he come to the park with me and if he could only put on his sneakers that would be fine, " said Farin.
Once he got to the park, Batista said it wasn't much more effort to get on the board. He quickly found the sensation of riding a longboard gave his mind and emotions a break.
"The first time we went longboarding, it made me realize how important it is to exercise. For one, it helped me not think about what I was going through and reminded me that having a healthy body helps you have a healthy mind," said Batista.
Today, alternative forms of therapy are helping people sort through emotions, conquer phobias and face childhood traumas. So far, Farin is the only therapist to have his longboard sessions sanctioned by the International Distance Skateboard Association (IDSA). This recognition means his lessons qualify as an organized event. For a $20 yearly fee, participants can purchase medical insurance that covers injuries during a session — with coverage up to $25,000 an incident.
"We know longboarding helps. The way I like to explain it is that the second you hop onto a board, you have endorphins times 10. Slowly people like Isaac are proving that longboarding is a legit treatment," said Jonathan Strauss, founder of IDSA.
From aging hipsters to young people – newcomers to the sport are finding longboards are easier to ride than a traditional skateboard. The longboard has wider wheels and longer platforms and it can go as fast as a bicycle. In Florida, longboarding is exploding across college campuses and on friendly bike lanes. "You get that energy transmitted by having that board roll on land. You feel that rush, that speed, that comfort," said Strauss.
With all of his clients, Farin starts counseling sessions in his office. If there is an aspect such as loss, anxiety or anger that can parallel with the longboard therapyTM, Farin will suggest it, if the client is physically able.
All sessions begin with an overview of the safety gear and for beginners, practice starts on the grass. Farin introduces meditation to center the focus on the board and then the on-board lesson begins. Both patient and therapist ride side by side and then they go on a silent ride from one end of the park to the middle.
"We both ride together. We don't talk. At the midpoint there's a bench where we talk about what we saw and heard. My intention is to focus the client on feeing the present moment," said Farin.
After four months, Batista says he's not mired in grief 24/7 and he can feel joy again. He's had his last session and will come back as needed but for now is focus in on his next goal — to regain a sense of purpose in life "
I want to find more meaning to life than just work. I realize that sometimes during the day when I feel sad, it's OK. Part of it is that is I don't want to forget my wife but now I'm OK going in that spot," said Batista. "Longboarding helped me realize that I can be in the moment and then move on.
" Even for younger clients who know how to skate, longboard therapyTM has been useful. Robert Aguilar is a 14-year-old high school freshman at Hallandale High. When he broke up with his girlfriend, things started to unravel and he was angry all the time.
"I ended up breaking up with my old girlfriend. Then I got a new girlfriend and then she broke up with me. I don't like to fight but when I do, I lose my temper so I keep it inside. It was just a complete backfire,'' Aguilar said.
"When I met Robert there was no distinction between anger and Robert," Farin said. "His mom was very concerned about how he handled his anger, locking himself in his room, being with his head down all the time. Now he's developing awareness about when he's angry. He's can see that he can control that by making small changes."
Aguilar was all smiles as he whirled quickly by a loop on the concrete tree-lined trail. Giant iguanas stayed motionless in the warm sun as therapist and patient rode silently by.
Even though Aguilar is an advanced skater, he was drenched in sweat as he gained speed around a bend. Afterwards, there were high fives and new goals to consider.
"Isaac sees the changes and that's what helps me," said Aguilar. "You just forget about everything on the board. Now I tell myself even if things get me mad, everything is OK and it starts to wear off.''
Click here to read the article on the Miami Herald website.